BOOK GO-KART: Drop-In & Race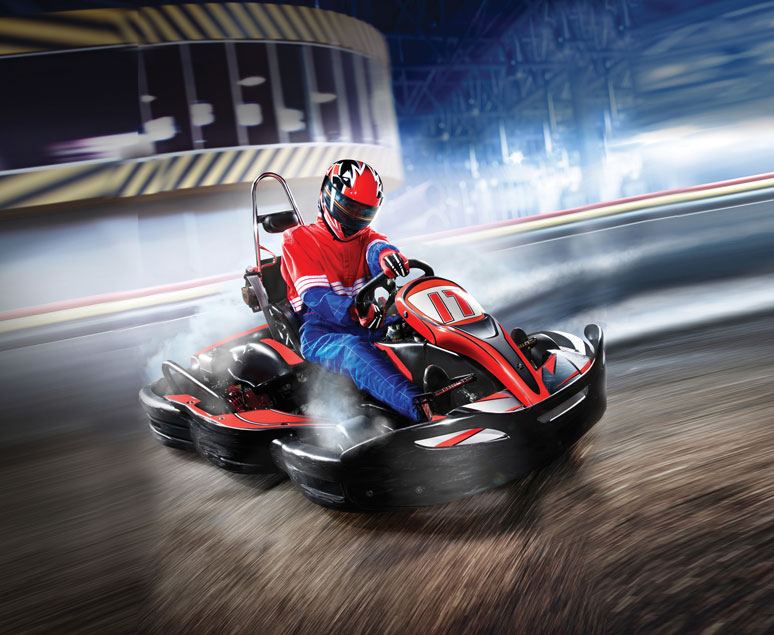 For all groups, friends, stag parties/bridal showers and corporate events, where advance bookings are a requirement, we have a number of ready-made race packages to choose from – see below – depending on group size and budget. We can always provide equipment such as helmets and overalls.
Kids' Karts for children 9 years old and 135 cm tall.
Adult karts available from 15 years and up.
Minimum age: 15 years on Saturdays except school holidays.
Double-karts available for 7 year-olds accompanied by an adult.
NOTE. It is very important that all in your group understands Swedish, English or brings an interpreter. This is a must for our safety briefing!
Our rules are for your safety and must be followed. If you break these rules, you stand the risk of being suspended from the track. No refund will be made if your race is terminated because of your breaking the rules. Where damage is caused to our equipment due to negligent driving, we will charge you for it in accordance with the list of prices current at the time.
For safety reasons, all drivers must understand Swedish or English.
All drivers must have registered and taken part in a run-through of flags and rules.
All go-kart driving is entirely at your own risk and we take no responsiblity for any personal injury.
You are prohibited from driving a go-kart if you are affected by alcohol or other drugs.
Long hair must be put up and secured inside the helmet. No scarves are permitted to be worn.
You must always take care and drive slowly in the pit. No more than walking speed in the pit area is allowed.
You are prohibited from starting the engine yourself. Only staff at the centre are permitted to start and stop the engine of your go-kart.
ALWAYS drive the 1st lap slowly to get to know the track and the car.
It is absolutely forbidden to drive in the reverse direction of the track or in any otherwise careless manner.
It is forbidden to drive into or ram other drivers' karts.
When overtaking other drivers you must do so in a safe manner.
It is absolutely forbidden to drive into or ram other drivers into the plastic barriers.
Always remain in the car if something happens to you or the car. Raise your hand, wait for assistance.
When you pass the chequered flag, DROP YOUR SPEED and drive directly to the pit.
         Our Flags:
YELLOW FLAG – Something has happened! Drop your speed to a crawl until the danger is past.
RED FLAG – There has been a failure in the system or some serious damage. Stop your go-kart immediately!
BLUE FLAG – There is a quicker driver behind you. Pull over and let him/her go past!
BLACK FLAG – A serious failure has taken place in your go-kart or you have broken our rules. Drive directly to the pit and wait for the competition manager.
CHEQUERED FLAG – The race is over. Drop your speed and drive straight to the pit!